Community-Led Development Programme
The Community Development Worker is focusing in 2 projects for the second half of 2018:
Coming Together on Common Ground
Welcome Neighbours!
What would make living in your neighbour more awesome? Let's co-create our dreams…
This is event is to celebrate our diversity and our many cultures, vision our positive future, build on our strengths, find ways of working together, craft solutions for our challenges, create an inclusive, vibrant, abundant community.  You'll leave feeling inspired, delighted, and connected.
Bring your favourite family or cultural dish to share in a potluck meal. After dinner, get ready to jump into the community-building activities and discussions. Children under 12 will be offered a special children's programme.
4 Events held around Hamilton. You're invited to attend the one closest to you.
West–Western Community Centre: 27 July, 6:30-9pm
South—Glenview Community Centre: 1 Sept, 6-8:30pm
North—Pukete Neighbourhood House: 8 Sept, 6-8:30pm
East—Waimarie Community House: 22 Sept 6-8:30pm
This event is a collaboration between Shama and the area community houses.
 For more information, email Sam or call 027-843-3002.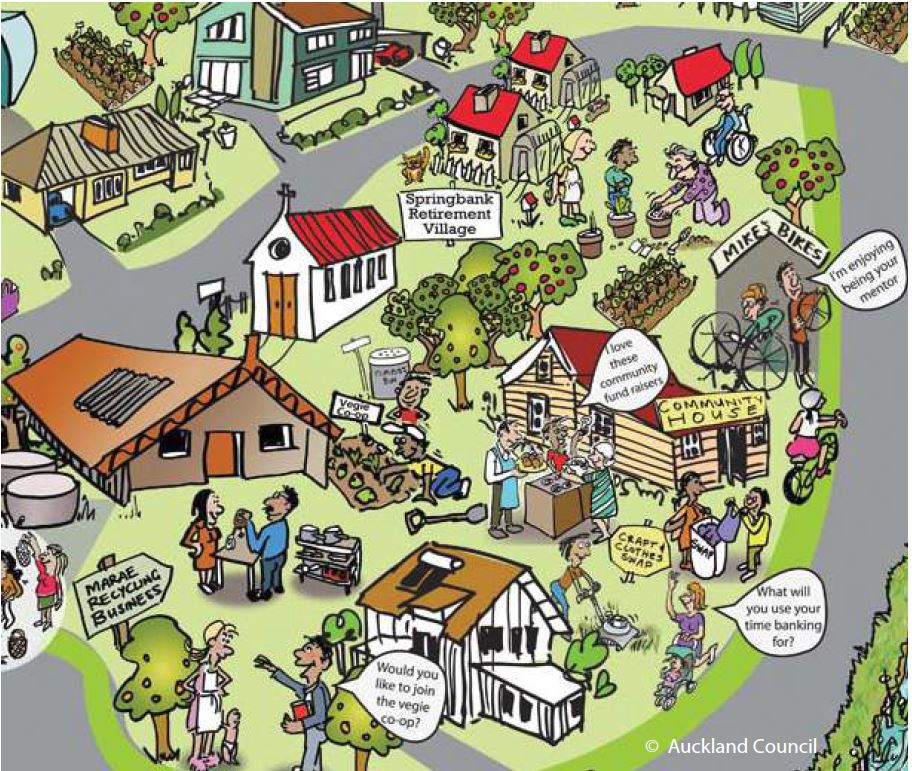 Affordable Housing Alternatives: Community Land Trust Feasibility Study
This projects aims to create an avenue for permanently affordable home ownership through a Community Land Trust—which would be the first of its kind in New Zealand and which would set a precedent and road map for other communities to create CLTs for permanently affordable housing.  With sound policy and effective action, we can shape our communities to be equitable and filled with opportunity for all. As neighborhoods grow and change, we can make sure that happens in a way that is good for the people who live there. Affordable home ownership ensures that families can put down roots without fear of being forced out and that people who are providing essential services can also live in the communities they serve. Strong communities have diverse housing options for a variety of incomes, offering choice and opportunity for all residents.
Outcomes of the project include a legal, financial, and policy framework for a CLT in Hamilton, guidelines for creating a working CLT board made of up homeowners, members from the community and representatives from community organisations, identifying possible parcels of land and avenues for acquisition including possible re-zoning, defining the house typology and a methodology for membership and steps to home ownership.
Shama is looking to partner with families interested in affordable housing, developers, funders, housing researchers, community-based organisations, and town planners to collaboratively create the first CLT in New Zealand.
About the Community-Led Development Programme
The Community-Led Development Programme began at the end of January of 2015 under the Community Development Scheme by the Department of Internal Affairs. During the first 3 years the CDW had set outcomes to achieve:
building connections between migrant communities in Hamilton,
creating inter-generational community connections, and
raising the ethnic community profile and developing a positive ethnic youth media strategy.
For a community to lead themselves they need to:
Have a common interest, value, goal that is shared amongst a group that they want to achieve
Have a way to get together to discuss & share these ideas
Have exposure to best practices in that area of interest (what works, what doesn't, with whom can we partner & learn from)
Gain capacity in working together as a group (communication, facilitation, decision making, conflict resolution, goal setting, etc) as well as any specialized skills to achieve that goal
Shama's Community Development Worker (CDW) aims to provide these opportunities.
Support the work that Shama does in the community