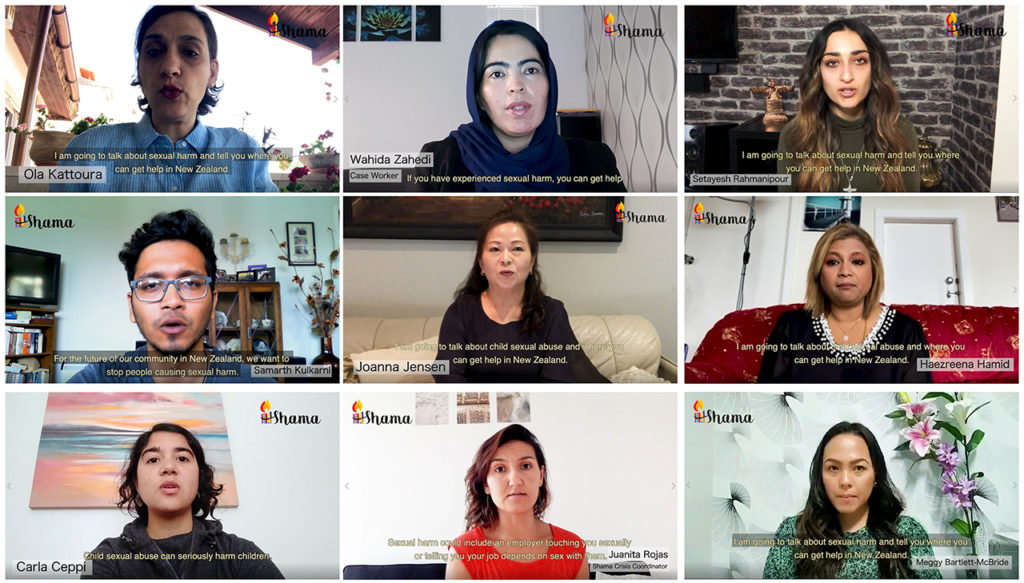 The Let's Talk videos is a multi-language, multi-media community project, that provides information about how to prevent and respond to sexual violence in New Zealand. 
The videos are in different languages and made by people in our communities. The presenters aim to increase opportunities for community conversations about preventing sexual violence.
There are 40 videos in 18 languages
At the Connections! Hui in 2019, participants talked about needing to find ways to talk about sexual violence, but not having the right words or knowledge about what to say.
What can we do if someone has been harmed? What stops sexual violence from happening? What about child sexual abuse? What even 'is' sexual violence?
It is not always easy to find information about these topics in English, and it certainly isn't available in multiple languages.
In order to talk about this sensitive topic carefully, the Shama team crafted five different messages about sexual violence. We included accurate referral information, accurate legal information and examples developed from our practice and knowledge of sexual violence in culturally specific situations.
We sought advice about these messages from other experts in the sexual violence field, and from our cultural advisory group.
Then we partnered with Arezou Zalipour, film practitioner and researcher at AUT, who advised us on the technical and practical aspects of creating these videos – we wanted long conversations but the videos needed to be talking head, short and punchy.
Finally, we took these messages to ethnic communities in New Zealand and asked who would like to create a video sharing one of these messages with their own community?
The response we got was huge. Let's Talk is beginning by releasing the first 10 videos, with more on the way. We will be talking about sexual violence in more than twenty languages, across the five topic areas.
We are immensely grateful to this long list of people who have consulted on and participated in this project – the video makers themselves spent hours crafting and re-crafting the messages to get it right for camera and for their own communities. Credits of all participants (including our advisory group members and staff who consulted on the project) are here in alphabetical order:
Arjun Atree, Meggy Bartlett McBride, Fariya Begum, Carla Ceppi, Sandra Dickson, Bex Fraser, Haezreena Hamid, Yasue Hirao, Joanna Jensen, Ola Kattoura, Samarth Kulkarni, Melinda Ma, Lily Nabi, Setayesh Rahmanipour, Payal Ramritu, Maria Cristina Rodriguez, Juanita Rojas, Severino Simwinga, Niamh Swannack, Jeanie Tseng, Wahida Zahedi, Arezou Zalipour.
Navigate to the playlist with your languages
Arabic | Cantonese | Farsi | French | Hindi | Japanese | Kannada | Korean | Malay | Malayalam | Mandarin | Portuguese | Punjabi | Sinhala | Spanish | Tagalog | Tamil | Vietnamese