Ethnic therapists and community workers from across Aotearoa met on Zoom on the 20th of July to discuss how to eliminate violence in our communities. This year the focus was on the intersectionalities and the areas of work.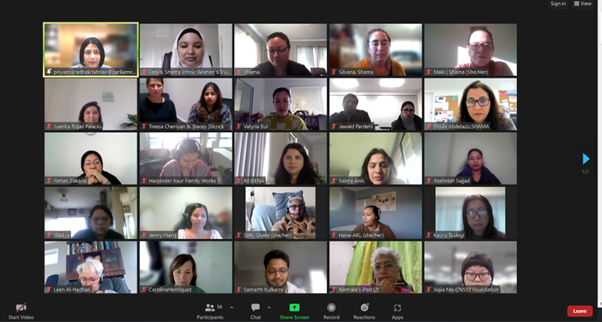 The Hui was opened by Minister Priyanca Radhakrishnan, who shared some of the progress in this space, Te Aorerekura, the National Strategy to Eliminate Violence, ensures that there is a direction, a mandate and a plan to achieve this. She also showed her appreciation and thanked all practitioners present for the work they do with our communities, she knows it is hard, she was one of us before becoming a member of Parliament, as most of her work was in the family and sexual violence prevention space.
After the Minister's speech, participants went into breakout rooms. We divided in groups according to the people we work with: children, youth, older people, people with disabilities, rainbow/LGBT+ communities, women and men. It was no surprise to see that most participants went to the women's breakout room. There were so many people that we had to open a second room for this group, showing that there are many people working in this space. in contrast, the disability breakout room had only one person, showing that we need to make more effort to find the voices that can inform us how to support ethnic people with disabilities better. Older people is another group that identified the need to develop services or initiatives that put older ethnic people at the centre.
Once the first round of discussions finished, we had an interactive exercise to map the services that we have in the different regions of New Zealand, to support ethnic communities experiencing violence. It was interesting, but not surprising, to see that cities like Auckland and Hamilton have lots of great services, but other places like Hawkes Bay or Nelson have very few services that specialised in working with ethnic communities. This is an important aspect to address, we need to have culturally responsive services everywhere in Aotearoa New Zealand that can support our communities when they experience violence.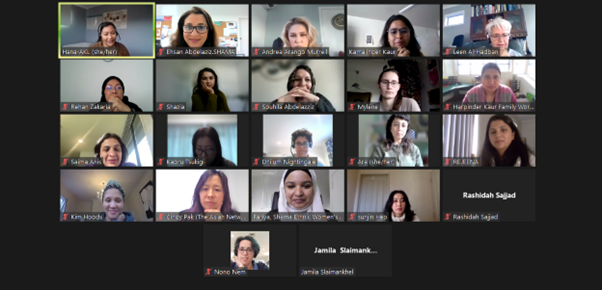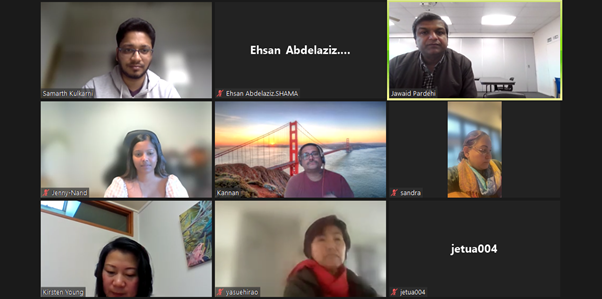 In the afternoon session, we went into breakout rooms according to areas of work: prevention, crisis, healing, research, advocacy and training. Here we had a more even interest in participation across the different areas, with all the groups having meaningful conversations.
More resources for all the areas was a clear message. We must resolve the inequity of resources, considering the number of ethnic people in the country. This is the only way to increase the number of services to cover the whole country, to have robust research that can inform policymakers about how violence impacts our communities, to provide more resources so advocates (usually volunteers) can better support people in their communities without getting burnt out, more resources so ethnic communities can develop and grow their own models for prevention and healing, based in our cultures, values and knowledge. Participants at the hui presented these and many other ideas and solutions. All the insights will be shared in a report by the end of the year.
Growing connections is one of the key goals of the hui, and the 2023 Connections! Hui saw many new relationships develop. As the MC of the event, Fariya Begum reminded us, "we believe that together we will go further and achieve milestones for our community, as the Maori proverb says:
What is the most important thing in the world? Well, let me tell you, it is people, it is people, it is people.